I know a few people who can bake (or cook!) up a storm in the kitchen; I hope for myself that one day I can master the art of baking some sweet treats. This gift guide is for the culinary connoisseur that would appreciate adding a little bit of flair to their kitchen. Whether they bake the best chocolate chip cookies or always make their own homemade pasta for dinner, these goodies are sure to put a smile on their face for the holidays.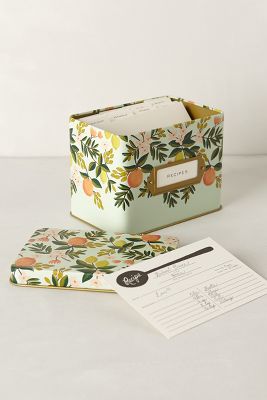 This Rifle Paper Company recipe tin from Anthropologie (also available here). I can honestly say that I have wanted this for years and personally consider it a kitchen staple. It comes in other colors and patterns but this one is classic.
This utensil lazy susan from Pottery Barn. At home, all of the utensils are scattered throughout multiple drawers and I always have to go searching for the right spatula or any kind of measuring cup. This container has a clean look for any kitchen and will help your friends stay organized during the Christmas dinner cooking session.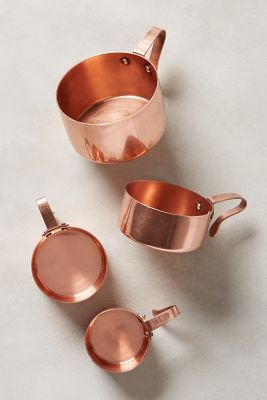 These rose gold measuring cups from Anthropologie. First order of business before I bake anything back home is to buy a new set of measuring cups and spoons. Many pieces of our existing sets are missing so I have to convert the measurements to fit the utensils we still have. To be frank, it's annoying. These measuring cups fit my rose gold obsession and would be awesome to have the next time I make, well, anything that involves measuring.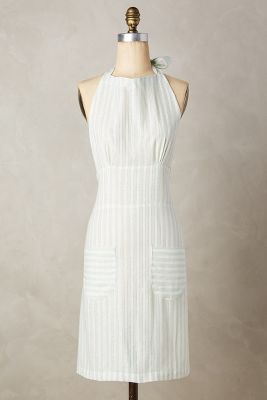 This apron from Anthropologie. (Sorry not sorry for the Anthro overload). I remember when I was younger, middle school maybe, I saw an article about stylish aprons and loved the idea! Anthropologie has aprons that look like fancy dresses; this one has teal stripes and a 1950's Mad Men kind of feel to it, despite the fact I haven't seen Mad Men.
This elephant shaker set from Modcloth. I'm going to go all caps for one second: I LOVE A CUTE SALT AND PEPPER SHAKER SET. I'm almost positive my grandmother or some other relative had a Mickey and Minnie Mouse set and I thought it was the cutest thing ever. This set may be more for me than a sophisticated baker, but whatever.
Do you have any ideas for what to get the culinary friend? Let me know!
I love giving gifts that are personal and fit perfectly with someone's personality and lifestyle. These guides keep your specific friends in mind, but I'm sure anyone and everyone will love any of these gifts. Happy Holidays!