Introducing my first season of gift guides! I love giving gifts that are personal and fit perfectly with someone's personality and lifestyle. These guides keep your specific friends in mind, but I'm sure anyone and everyone will love any of these gifts. Happy Holidays!
I have plenty of friends that love being outdoors. In fact, a staple activity in my friend group is a beautiful hike on picturesque trails. Even in college, a lot of the people I have met are outdoorsy types; most of them go hiking on the weekends. These gifts are perfect for people who can't help but be outside all the time.
This candle form P.F. Candle Co. They sell these candles at Madewell and Urban Outfitters, and this scent is my favorite. It's perfect for bringing the outdoors inside.
This Little America Backpack from Herschel Supply. I have three different Herschel bags and my school backpack is a Herschel. The Little America styles are the perfect size for carrying essentials and equipment for your friend's next woodsy trek.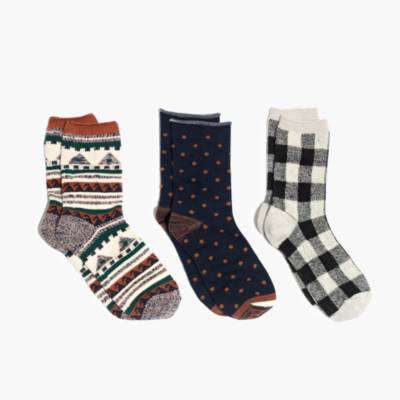 These cozy socks from Madewell. If your friend is a serious hiker, why not give them some stylish socks to go with their hiking boots? And if your friend takes the easy hikes, why not give them these socks to lounge in after their trip?
This Hydro Flask. They come in all sorts of colors and they have flasks for coffee and tea, too. I cannot tell you how many hikes I have been on where the water becomes warm or where it would have been nice to have a warm drink on a cold morning hike.
This tapestry from Society6. I personally like this one for design purposes, but Society6 has tons of cool outdoor-themed wall tapestries.
This travel journal from Urban Outfitters. Comes with scratch-away maps to record where you have been… Man, I want one of these now.
What gifts would you get your outdoor traveler friend?